Rip it. Rip it good.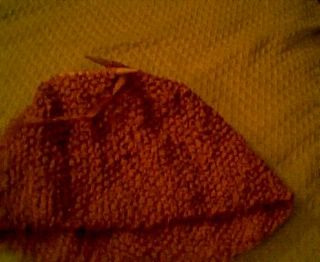 Ugh. So the Xback is knitting up super fast -- unfortunately, it's waaaay too big. I joined the Xback knit-a-long, and other knitters mentioned that their tanks were buckling in back and entirely too large. So I put mine on stitch holders and tried it on. Lo and behold, it is way too big. I chose the small size, but I think I will need to try to extra small. I worry, tho, that it might still be too large. Apparently, the yarn that we are all using as a substitute stretches more than the yarn that the pattern was written for. (That yarn, unfortunately, has been discontinued).
Here are some photos anyway, before I get ripping. The pictures stink because, right now, my only digital camera is a little teeny tiny "Get Smart" looking one that my mother bought me for Christmas. She is under the impression that I am a spy.